A few months into our relationship, Andrew invited me to travel with him and his family to London. I was super excited for this over seas trip and needed to buy a suitcase. I was thinking BIG. Then, he breaks the news to me. His family only travels with carry-ons.

If course I thought this was a joke because how could I fit all the stuff I need into a tiny bag. I was freaking out inside but his family was awesome enough to take me with them so I went with the flow. Carry-on suitcase it was. I taught myself how to pick lightly and since I have been a carry on only traveler.

I never looked back. I can't remember the last time I waited at baggage claim. Even when I went to Australia for two weeks, I went with only a carry-on. Many people suffer from over-packers syndrome. If you are one of those people, stop packing so much and learn the art of one bag packing.

Come Out of the Closet

Stop. Just stop what you're doing and make a list. It will help immensely with over-packing. The most important step of the packing process is picking your clothes. Something new I have been doing is choosing a color scheme. I pack mostly neutrals that can be mixed and matched with colorful accessories to add some pop.

I choose fabrics that are less likely to wrinkle. Even if it's my favorite piece, if I know it wrinkles easily, I leave it at home. I don't even own a clothes iron at home so the only thing I plan on ironing while on vacation is my hair.

This may sound obvious, but first check the weather and activities you will be doing on your trip. If it's a outdoorsy trip, you're probably not going to need that sparkly dress and stilettos.

I always bring heels with me and never wear them, EVER. Leave them home of you can.

If you absolutely need to go to the gym when you're on vacation, before you pack your work out clothes, call the hotel. Some will actually provide them for $5-$10. Now that you have figured out how many outfits you're going to need, lay it all out and then subtract one. I bet you still won't wear everything you pack. This is my go to for a 10 day trip. Yes, I re-wear stuff.
4 bottoms including a pair of blue jeans and black pants
7 tops including a black tank and white t-shirt
1 skirt most likely black
2 dresses; one solid, one print
2 cardigans or swap one out for a blazer or light jacket
1 pair of flats, 1 pair of comfy shoes for walking and boots for a cold place or wedges for warm
Some colorful accessories- scarves, necklaces, hats, belts, etc.
Underwear, bras and socks
Roll With Me
Start the packing process by putting all your shoes on the bottom and sides of your bag. You can put your socks inside as shoe trees. It will prevent them from getting smushed. I save those bags that bed sheets come in to keep the shoe soles from touching my clothes but shower caps work, too. If you're bringing boots, just wear them on the plane to save space.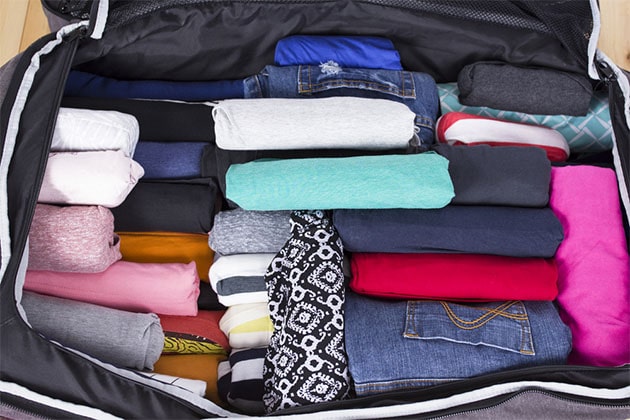 All pants get rolled and tops can be folded neatly or rolled really small as well. Skirts and dresses can be a little trickier. I haven't tried them yet but I have heard air compression bags are great to save lots of space.
Always bring some plastic bags to store your dirty/wet clothes in. Most hotels have dry cleaning bags in the closet so I take them too for dirty clothes. Lastly, stick some dryer sheets in so your stuff will smell fresh.
I despise Saran wrap but it's good for so many things. Lay your jewelry out between two sheets of plastic wrap to prevent it from moving around and tangling inside your bag. Straws around necklace chains also work.
Traveling Beauty
Hair tools are big, heavy and 100% necessary to bring on vacation. Check your hotel website and see if they provide a hair dryer. I like the Hot Tools Stowaway travel iron. Its only 20 bucks – great investment.
You do not need to bring ALL of your makeup. You're on vacation – give yourself and your face a break.
Pick your essentials, it will be different for everyone. For me, I can't live without mascara but could live without foundation and blush. I usually bring some eye makeup and lip gloss; that's it. I used to leave my perfume at home because most were over 3 oz. I've seen too many people lose their favorite scents to the TSA.
Try going to Sephora and ask for some free samples of you favorite perfume or if available buy the roll-on version. For toiletries, I bring my own shampoo and conditioner but I use what I can from the hotel like bar soap and body lotion.
Coconut oil can be used for so many things like makeup remover, moisturizer, shave lotion, hair mask etc. If you are really short on space, you can always buy your toiletries when you get there.
You don't need to bring your whole life on vacation with you. In fact, it's a time to escape and get away from your day-to-day life. The fun of traveling is being out of your comfort zone. Whether you are going on vacation or a business trip, it pays to travel light. It won't cost you extra for checking luggage, no waiting at the dreaded bag carousel and your stuff will never get lost. Happy Travels!