There are tons of hidden gems just waiting to be bought in every thrift store across the country. Whether is an old record, a pair of designer jeans or some vintage china, these valuable items are often overlooked. If you're a secondhand connoisseur, you can make some extra money thrifting for profit.

To find success from the very beginning, it's important to nail down your process. From what days you will shop to where you will wrap up your orders you should have a plan. It will change as your business grows and that's ok. It's a good problem to have. But, if you don't prepare, you will likely get overwhelmed as I did in the beginning. Here are a few things I learned along the way.

1. Create a Workspace.

Before you begin buying and reselling, you should have some systems in place to streamline the process. When I first started everything was all over the place. Clothing was in different places around my apartment, and I always found myself running around to find a box or tape. I was a chicken without a head.

Most important is to have a place to organized place store your inventory.

If you have an extra bedroom that works great. If not you can use a portion of your garage or basement and make it work for you. Create your workspace equipped with a storage area, shipping area, and photography area.

Depending on the space, you may have to get creative. I use an extra bedroom in my apartment and also outfitted my basement storage unit will clothing racks.

Office Supplies

There are things you will need on a daily basis for your business. You can start with the basics and grow from there. Here are a few things you will need.
A printer and paper for shipping labels. Buy a decent one what else you will spend more time fixing it than anything else.
Camera to take photos of your items. An iPhone and it's editing apps work just fine for me.
A shooting set up. Find a place in your home where you can take sharp, clear and bright images of your item listings. Here are some tips to take killer images.
Shipping supplies. Get yourself some good packing tape with a dispenser. If you are shipping via USPS, you can order shipping envelopes and boxes for free on their website. If you are shipping fragile items, you will probably want to to get some newspaper or bubble wrap.
Storage organization. Whether you are selling old video games or designer clothing, you will need proper storage.
2. Create Your Process.
You'll need an order of operations from when you bring you items home to when they are sold. If you don't, you will become unorganized pretty quickly – believe me. Items will be lost in a mess, never get listed, get damaged or lost. Time is money, so you want to get the items recorded into inventory, photographed, listed and stored the easiest way possible.
Create something that works for you and your setup. Here is my process as an example. I go shopping on Wednesday mornings because Salvation Army is half off and I want to get all the goodies for as cheap as possible. I load all potential inventory in the cart like a mad woman and then review my findings (more about my thrift shopping process here).
As soon I bring my items home they go straight in the dryer for 40 minutes to kill any potential bed bugs– ewwwwwww. Next, I log all the items into my inventory spreadsheet with the purchase price and hang them on my "need to be listed clothing rack." If the lighting is good, later in the day, I will take images of all the items and edit them for listing.
The items are now ready to be posted on Poshmark, Ebay, etc. Once they are listed, the items go into the basement with the rest of my inventory. Down there everything is organized by item type and then by size. Since I don't want to be running up and down all day I batch shipping. I only go down and grab the stuff I need to ship once a day.
**Side note– I'm in the process of creating an online store and inventory management through Big Commerce. As soon as I get my inventory process ironed out using that I will be writing an in-depth post on my experience.
3. Create a Shopping Schedule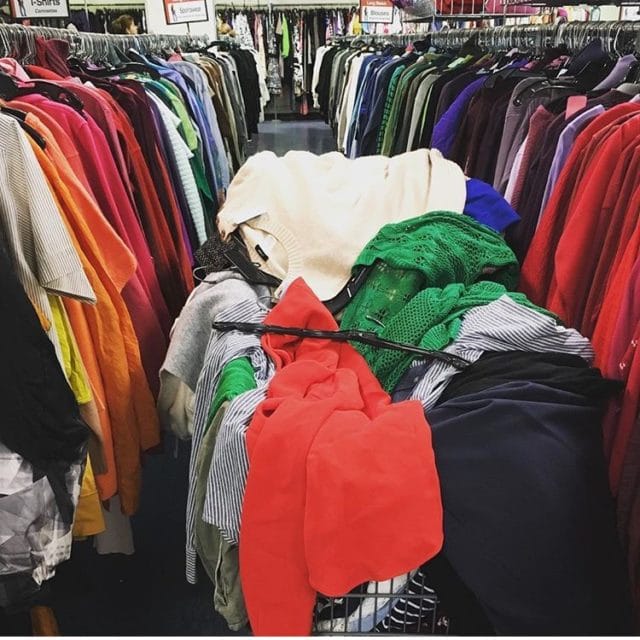 Store Rotation
You will have to make trips to few different thrift stores in your area before you find your favorites. I live right across the river from NYC, and you can find some of the best lightly worn high-end items. However, the prices can be freaking expensive for reselling. I've noticed pricing varies from store to store, even if they are part of the same chain. There are a few Good Will stores in NYC that don't have weekly colored tag sales!
Be smart about which stores you shop at.  Find the locations that have fair pricing and a lot of good inventory. Don't just visit thrift stores in high-income areas.  Most of the second-hand chain stores distribute their donations from to one central warehouse so you shouldn't just stick to more expensive neighborhoods. I do much better shopping in low-income areas.
Although thrift stores are putting new things out all the time, if I go to the same store too frequently I feel like I see a lot of the same items twice. I don't want to waste time going through the same things I picked through the week before. After testing it out, I figured out visiting a store every two weeks seems to be the sweet spot. There are enough fresh new items for me to find.
I haven't braved it just yet, but I hear shopping at the distribution centers are pretty amazing (and scary). You have to dig through huge bins of clothes, but it's uber cheap. Clothing will run you about $1 per lb of clothing. Imagine what your profit margin could be if you are purchasing items for pennies. When I muster up some courage, I will go bin diving and share my adventure with you.
Set a Schedule
When I first started reselling, I would shop every once in a while and list stuff randomly. In turn, that's how I would sell stuff – once in a while and randomly. My husband told me if I wanted to up my reselling game I had to make a schedule for myself. I needed to shop more to generate more income.
Part of the fun of thrifting is that you never know what you're going to find, as they're always putting out new items. Some days you might not find anything, and other days you'll leave with ten shopping bags full of stuff. I always try to go on sale days.
Make friends with someone who works at your favorite thrift stores and as them when their sales are and when they put new merchandise out.
4. Keep Your Profit Margin High
Just because it's a good deal doesn't mean it's a good deal for reselling. Time is money. You need to account for the time it takes for you to take pictures, list and ship it. Is $3 profit worth your time?
Basics are a dime a dozen. Even if you find a higher end tee shirt, it doesn't mean you are going to sell it for much profit. Find unique pieces to sell. I look for items that will catch someone's eye, things that are different.
Learn to spot high-quality items even if you don't know the brand. Always Google brands I do not recognize. More often than not you will be pleasantly surprised. Keep your eye out for items that look and feel high quality regardless of the name on the tag. Remember natural fibers stay nice over time so look for cotton, linen, leather, etc.
Before you head out to the thrift store, check out trends that retailers are selling. Do you see a ton of geometric print dresses? Rose gold accessories? Look for those types of items new and vintage. Just because it's old, it can still be totally current.
Beware of impulse buying. I am so guilty of this. Prices are so low at the thrift store, it' so easy to fill up your cart with a ton of items you don't need or can't sell.
If you have an eye for thrifting and know which items are worth reselling you may have a business on your hands. Thrifting for profit is easy, fun and can be very profitable. If you are ready to start selling used clothes online start here.